The 2021 Subaru Love Promise Customer and Community Commitment Award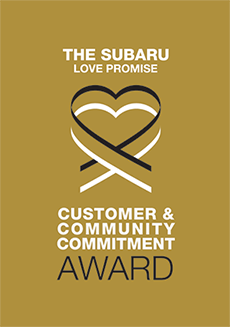 We've been nationally recognized for our dedication to our customers, our community, and the Subaru Love Promise.
We're honored to receive the 2021 Subaru Love Promise Customer and Community Commitment Award. This award nationally recognizes elite Subaru retailers who provide an exceptional customer experience at every interaction with Subaru. These retailers have also demonstrated an outstanding commitment to supporting passions and causes in their local communities in important areas such as the environment, community, health, education, and pets.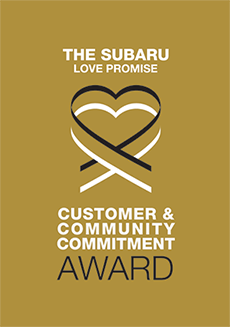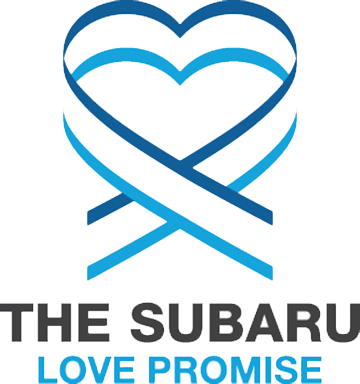 What is the Subaru Love Promise?
Subaru and our retailers believe in making the world a better place and the Subaru Love Promise is our vision of respecting all people. This is our commitment to show love and respect to our customers and to work to make a positive impact in the world.
How is O'Steen Subaru of Valdosta dedicated locally to the Love Promise?
Our Love Promise can be seen in various partnerships with local charities and non-profits. We're grateful for the opportunity, not only to be a part of our community, but to serve it as well.
Lowndes Education Improvement Foundation , Annettee Howell Turner Center for the Arts , Boy Scouts of America
Miracle League of Valdosta, The Community Foundation of South Georgia, Special Olympics Georgia, Boys and Girl Club Valdosta, Second Harvest
EasterSeals, Horizons Community Solutions
Love Promise Stories from O'Steen Subaru of Valdosta
Subaru and O'Steen Subaru of Valdosta believe in making a positive impact on the communities in which we live and work. We uphold that belief through our Love Promise Community Commitment. Every month, we select inspiring stories from customers and partners from around our area who strive to support our collective commitment and feature them here
O'steen Subaru of Valdosta - Andy G
The Miracle League of Valdosta is honored to be picked by O'steen Subaru of Valdosta as their Love Promise. A few years ago Megan reached out to us and asked if they could partner with us. I immediately said yes because I had already heard the awesome stories that Subaru was doing through this wonderful event. O'steen Subaru of Valdosta does a lot of great things for our community. The support that we have gotten allows us to keep our gates open to our Miracle Field Complex. The Miracle Field is a 200 foot two-dimensional rubberized field with fully accessible dugouts that feature full bathrooms. We are able to offer multiple sports such as baseball, soccer, track, kickball, softball and basketball all on one field. There's also a fully accessible concession stand and restroom building, a fully accessible pavilion, and a boundless playground where children of all abilities can play together. We are proud to say that our complex is the crown jewel of VLPRA's parks & facilities. Our athletes are children and adults with disabilities. We have over 125 athletes that participate in our sports throughout the year. We play baseball in the fall and kickball in the spring. We are home to our local special Olympics. During this time we will have over 500 athletes and 100 volunteers from several local counties. We have hosted the Special Olympics of Georgia and look forward to hosting them again in October of 2021. On behalf of The Miracle League of Valdosta athletes, parents, fans, board members and community. We want to say Thank you Subaru and Thank you to O'steen Subaru of Valdosta for your support.
---
BARC Humane Society - Subaru Loves Pets Program - Jackie S
BARC Humane Society is extremely grateful to O'Steen Subaru for including us in their Subaru Loves Pets Program for October 2020. They donated $100 for each rescue animal that was adopted from us. During this time, BARC found great homes for fifteen animals, a few with special needs like super sweet Apollo Creed, a blind kitten; Bogart, a loving dog with hip dysplasia, and Jigsaw, a cat that requires medicine for seizures. Over the years, O'Steen Subaru has also included BARC in their Cars, Coffee and Canine events where we were able to offer a microchip service to the public as a fundraiser and gain exposure of of our rescue animals at the dealership. In addition, O'Steen has generously sponsored BARC events like our annual BARC Ball and Music to the Rescue.
---
1st Annual Buddy Walk - Amanda M
The Down Syndrome Association of South Georgia recently sponsored the 1st Annual Buddy Walk to raise awareness of Down Syndrome. Due to the unfortunate circumstances of COVID19, the Buddy Walk had to be a Virtual Buddy Walk. O'Steen Subaru of Valdosta became a top Gold Sponsor for this event and joined the team of a local 8-year-old girl with Down Syndrome. All proceeds raised in this event go to support our local Down Syndrome Association. It was an honor to partner with O'Steen's to make this event a success! The week prior to the event, they offered a portion of their parking lot so Committee Members could disperse the TShirts to other sponsors. O'Steen's Subaru of Valdosta went above and beyond to support this event and the organization. O'Steen's, you are truly a blessing to our community and we thank you very much! From, Lana's Bananas Team The Mason Family Buddy Walk Committee Members & Down Syndrome Association of South Georgia
---
Boy Scout Council Raises Funds To Build Leaders - Sam M
On Thursday, January 30, 2020, The South Georgia Council of the Boy Scouts of America held their annual "Building Leaders Dinner" to raise the necessary funds to continue programs and services for their youth and leaders. The main attraction was the reality star and author, Terry L. Fossum. Terry spoke about his experience on the survival reality show, Kicking and Screaming. Terry's team won and he owed it to the skills he learned while being a Boy Scout. Terry also spoke about his brother who failed 6 times to become an astronaut. He told the crowd of over 300 that his brother never gave up because that is what he was taught as a Boy Scout. On his brother's 7th attempt, he made it. Never give up on your dreams is what Terry expounded on throughout the evening. Without the dedication from O'Steen Subaru of Valdosta to their community, this event would have not been successful. For the 3rd consecutive year, O'Steen Subaru served as our corporate sponsor for the Building Leaders Dinner. They have proven to have a desire to develop our future leaders by their commitment to this event and the many other youth organizations they support.
---
Special Olympics Georgia's 2019 State Fall Games - MeredithElizabeth C
Special Olympics Georgia had its 2019 State Fall Games for the first time in Valdosta, Georgia on October 11-13. During our first year in Valdosta, over 2,477 athletes, coaches, and unified partners were able to take part in team and individual competitions throughout the weekend and participate in Bocce, Golf, Golf Skills, Softball, and Softball Skills. Through competitions like the State Fall Games, the athletes are able to show off their abilities rather than their disabilities. The feelings of joy and acceptance stemming from this experience become memories that each athlete can take with them and cherish for a lifetime. As such, we are appreciative for your belief in our mission and investment in the athletes. Special Olympics Georgia is a non-profit sports organization that serves individuals with intellectual disabilities so they can show their skills in abilities in 26 different sports in competitions year-round. Special Olympics Georgia was proud to partner with O'Steen Subaru of Valdosta as the Presenting Sponsor for the 2019 Fall Games. As part of this wonderful event athlete enjoyed being able to associate with many members of the O'Steen Subaru Valdosta team as they volunteered throughout the weekend. The O'Steen Subaru Valdosta team helped by keeping score and handing out metals at many events and all the athletes truly enjoyed it. We truly appreciate their support for our organization and athletes. We look forward to this partnership in the future. Thank you so much!
---
Subaru and LLS Support Cancer Patients - Sydney T
On June 25, 2019, The Leukemia & Lymphoma Society - Georgia Chapter and O'Steen Subaru of Valdosta had the pleasure of delivering 80 blankets to the Pearlman Cancer Center as part of the Subaru Loves to Care program. Chip and Megan O'Steen, Jason Archer, and the staff of O'Steen Subaru of Valdosta delivered these comforting gifts along with personalized messages of hope written by the customers and staff of O'Steen Subaru of Valdosta.This incredible act of generosity was warmly received by the Pearlman Cancer Center staff who were thrilled to distribute these comforting gifts to their patients. It was truly amazing to see how many staff were able to come down to receive the donation and take a picture with the O'Steen Subaru Team. LLS is proud to partner with Subaru to spread hope, love and warmth to those fighting cancer, across the country and right here in the Valdosta, Georgia community. Many thanks to everyone at O'Steen Subaru of Valdosta and the Pearlman Cancer Center, not only for a memorable day, but for supporting LLS's mission to cure blood cancers and improve the quality of life of patients and their families.
---
O'Steen Subaru - Title Sponsor of Valwood Auction - Joanna N
O'Steen Subaru of Valdosta once again graciously agreed to be the title sponsor of Valwood's Spring Auction. The Valwood Spring Auction was held on Saturday, March 9th on Valwood's campus. Guests gathered in the "Emerald City" to bid on silent and live auction items while enjoying a delicious dinner and live entertainment. All proceeds raised were used to further enhance the learning environment at Valwood. Valwood School is an independent college preparatory school located in Hahira, Georgia and serving Pre-Kindergarten through High School students from all over the Southeast. On behalf of the Valwood Parents Association, I would like to thank O'Steen Subaru of Valdosta for their continuous and generous support of our school. They have been the title sponsor of Valwood's Spring Auction for consecutive years and we are sincerely grateful for their support.
---
Valdosta Junior Service League - Bonnie S
O'Steen Subaru was the title sponsor for the Valdosta Junior Service League's Merry Marketplace event. The Valdosta Junior Service League (VJSL) is an organization of more than one hundred women who are dedicated to promoting volunteerism, developing the potential of women, and improving the community through the interaction of organizations in Valdosta that are in need of service. Through their generosity as a sponsor, O'Steen Subaru helped the VJSL raise thousands of dollars at the event to go back to the Valdosta community through organizations that we support such as House of Hope, The Haven, Habitat for Humanity, Children's Advocacy Center, and many more! Their continued support of the VJSL and other Valdosta organizations shows they are much more than a car dealership; they truly care about this community and the people in it!!
---
Quintessential Customer Care - Bernard G
In early November while on route to Florida for our first Snowbird road trip from Ontario, Canada we encountered a traveler's nightmare as disheartening signs of car trouble became alight in our Outback's dashboard just as we hit traffic hour in Atlanta. It was late Sunday and no dealerships were open in the area. We managed to find O'Steen Subaru online, called the service manager while continuing to white-knuckle our way to our hotel in Warner Robbins. Early Monday morning we left the hotel at 7:30 to drive to O'Steen's in Valdosta, Georgia, even though we didn't have an appointment. Shortly thereafter we got a call from Ben Wilson, the parts & service director. He got our anxiety-filled call from the day before and immediately reached out to calm us down and give directions to the dealership first thing that morning. Upon arrival, Ben took control and explained what they would do. In the mean Charley LaMontagne made us feel like we were with family as she gave our pup a bowl of water and a Subaru plush toy. She also hovered around us offering water and coffee while we waited. After a couple of hours, Ben and Barry, the service technician, took the time to explain the situation to me and what they did to address it. It was like talking to friends who genuinely cared about us. We left the dealership a lot calmer than we had arrived thanks to the O'Steen Subaru service team. But that's not the end of this indoctrination to our first road trip. On Tuesday, Ben called us in Florida to make sure that all was in order and that we had arrived safely. The service that we experienced at O'Steen Subaru under Ben's leadership is unprecedented in my experience as a consumer and retired executive in world-class service-oriented companies and know excellence when I see it. We are eternally grateful to Ben and everyone at O'Steen's. Thank you.
---
Subaru Delivers Warmth and Hope to Cancer Patients - Audrey S
O'Steen Subaru of Valdosta has a heartwarming realtion to cancer. Jason Archer from Subaru shared that every member of their team has been touched by cancer so getting involved through the Loves to Care Program is very important to them. They were so elated to partner with The Leukemia & Lymphoma Society (LLS) to help bring hope and warmth to cancer patients. Chip O'Steen, the general manager, has a father who was recently diagnosed with cancer and underwent surgery and is now doing well. Chip O' Steen went above and beyond, not only supporting the Pearlman Cancer Center of Valdosta with the blankets and craft kits, but also providing a luncheon for the staff. The Subaru representatives of O'Steen Subaru of Valdosta were able to personally give the blankets to patients who were at the center for treatment. Local news stations, The Valdosta Daily News and WTVM, covered the blanket delivery. The patients truly felt a personal touch with the blanket delivery and a connection with Subaru that they will never forget. Thank you to Subaru and The Leukemia & Lymphoma Society for the 3rd consecutive year to help patients in need through the Loves to Care program.
---